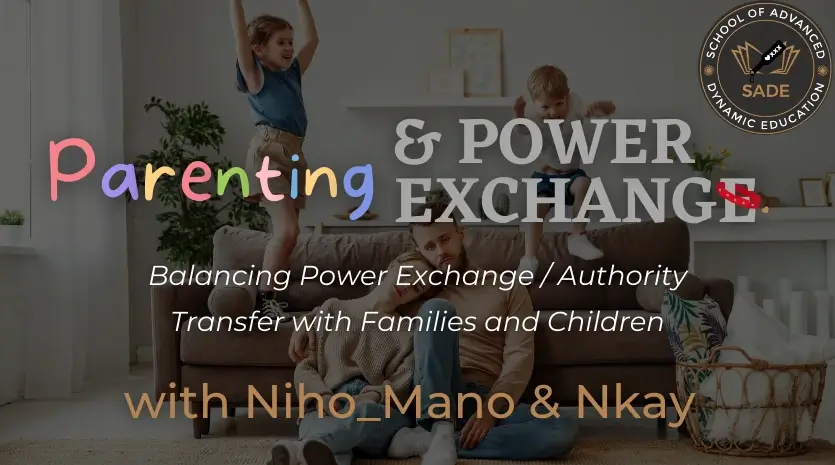 You don't have to give up having a power exchange authority transfer and family together. Although, family and authority transfer conflict, they often run parallel. Above all, the wonderful worlds of BDSM and parenting aren't that different. And, you can use the same values that you learn in BDSM for parenting, and vice versa!
This class will dive into the challenges & rewards of living a 24/7 Master/slave lifestyle power exchange authority transfer while raising a family. Our instructors include
Nkay:
slave, human grower, pediatric nurse practitioner with a mental health emphasis, and life guide to two spawn. She co-parents alongside her Master
Niho_Mano
, a formerly reluctant, now award-winning "Step" Father. One who is navigating parenting after years without children.
Together, their family has managed BDSM and parenting. Most importantly, finding balance while living M/s, co-parenting, practicing polyamory, growing careers, through gender/sexuality discoveries. And now, their biggest (and most terrifying) challenge…teenagers.
They attribute much of this BDSM and parenting success to the strong foundation their family was able to grow from: a strong M/s dynamic power exchange with aligning family values.
They will discuss topics including:
Living authentically M/s while instilling important values (feminism, consent)
Transparency & developmentally appropriate honesty
Family approved rituals and protocols
Discipline
Finding time for kink
This class is suitable for everyone, regardless of parental status. The concepts taught are applicable to families of all kinds.
EVENT ENDED!