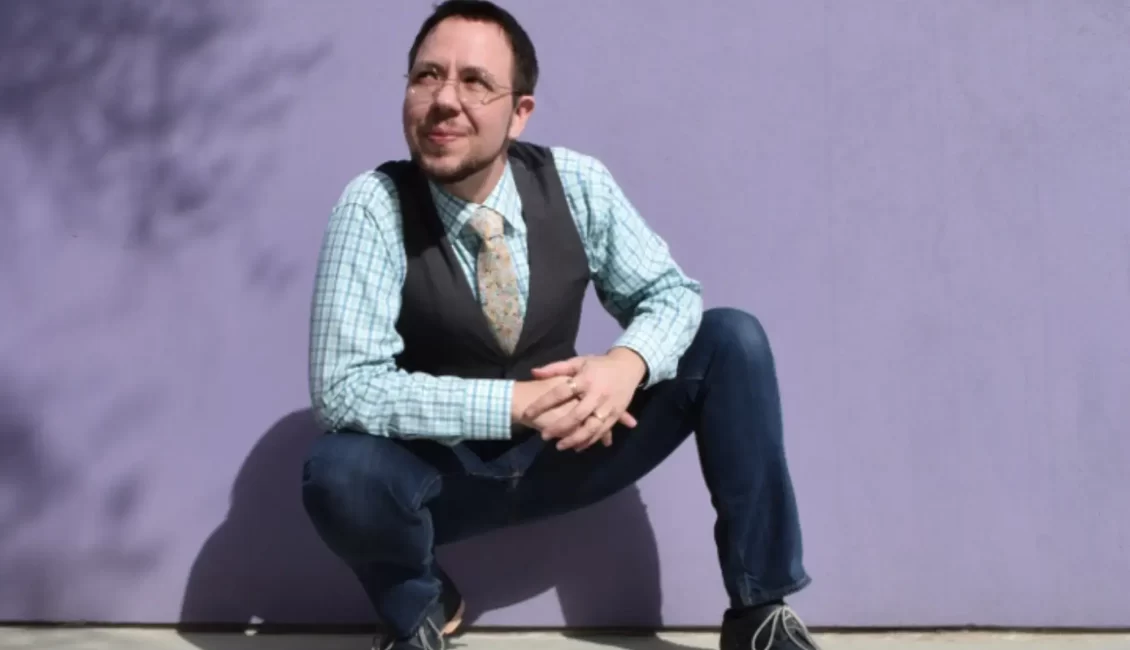 Image of Lee Harrington by Darrel Lynn of Kilted Photography
Lee Harrington is an internationally known spiritual and erotic authenticity educator, gender explorer, eclectic artist and award-winning author and editor on erotic and sacred experience. He is the creator of Passion & Soul. He is a nice guy with a disarmingly down to earth approach to the fact that we are each beautifully complex ecosystems, and we deserve to examine the human experience from that lens.
Lee began as a peer sex educator in his teens. Occasionally, teaching relationship and kinky sexuality courses from the late nineties through 2003. Lee transitioned out of the non-profit world into this adventure with uncertainty, followed by excitement. Since then, Lee has had the opportunity to teach in-person at universities, sexuality conferences, and within alternate sexuality communities across the United States (in all 50 states), Canada, England, Germany, Ireland, New Zealand and Australia. He has taught over 900 classes to date (with more being set all the time). His topics range from effective speaking skills to erotic authenticity, rope bondage to safer magical sex, gender paradigms to dominant/submissive power exchange within culture at large.
He is known for bringing a combination of playful engagement and thoughtful academic dialogue to a broad audience
Lee Harrington believes in providing educational experiences in the interstitial space where adult sexuality, personal integrity and spiritual exploration come together. He has also had the pleasure of being the keynote speaker for two conferences on the topics of inter-community intersections. Also, discussing meeting the needs of community leaders. He has developed a cult following and private clienteles of individuals seeking a sexuality life coach and spirit worker. He helps them find and explore the path that is right for them.
This calling to educating about sexuality and more in an accessible manner has led to his prolific writings on the topics of sexuality, gender identity, erotic restraint, community dynamics, alternative relationships, kink, spirituality, and sacred sex. He is the only author to win the Geoff Mains award for excellence in non-fiction sexuality writing. He has won this on three separate occasions. A number of his works have become staples for reference and recommendation within their respective communities. Lee currently has eight books in publication. Additionally, he is editing two non-fiction anthologies and writing extensively for anthologies, magazines, online publications, and fiction collections.
His non-fiction books are:
Traversing Gender: Understanding Transgender Realities
Shibari You Can Use: Japanese Rope Bondage and Erotic Macramé
More Shibari You Can Use: Passionate Rope Bondage and Intimate Connection
The Toybag Guide to Ageplay
Sacred Kink: The Eightfold Paths of BDSM and Beyond
Playing Well With Others: Your Field Guide to Discovering, Exploring and Navigating the Kink, Leather and BDSM Communities (co-written with the talented Mollena Williams).
In addition to his writing and teaching, Lee is the host of the Passion And Soul Podcast
Which has been running since January 2011. He covers topics on the intersection of sacred sex, kink, and life exploration as a multifaceted soul. Additionally, he has been an invited guest on numerous other podcasts and radio shows. He loves reaching a variety of folks through this fantastic media. Moreover, his blog has been running since 1998. It is still a passionate project, having shifted over time as his life has evolved.
When not teaching, touring, blogging, writing, podcasting, or appearing in video, Harrington is also a performance artist, shamanic practitioner, and sacred sex ritualist. He has performed on stage at L'Erotica (Sydney), Femina Potens (San Francisco), New Zealand Fetish Ball (Christchurch), Torture Garden (London), ShibariCon (Chicago), Darkside Club (Berlin), and more. As a spirit worker, shamanic practitioner and ritualist, he has offered private exploration intensives, done individual rites (such as officiating weddings and collaring ceremonies), created unique experiences, and offered professional domination. These all tie into his published and gallery-show work as a photographer, his internationally shown biographical one-performer show "Creature on a Quest," and his published poetry collection On Starry Thighs: Sacred and Sensual Poetry.
Lee Harrington was not planning to end up living the life he has today. But, life is full of miraculous twists and turns. Beautiful gifts, he finds, are often wrapped in unexpected packages. We each follow our passion and our soul. He has done that. And, hopes to help open up the doorway for people doing that for themselves and the world at large.
*
For those that want a smile: Lee collects antique keys, bandanas, sacred doodads, and good friends in his spare time between bouts of changing the world. And know what? You can change the world too.