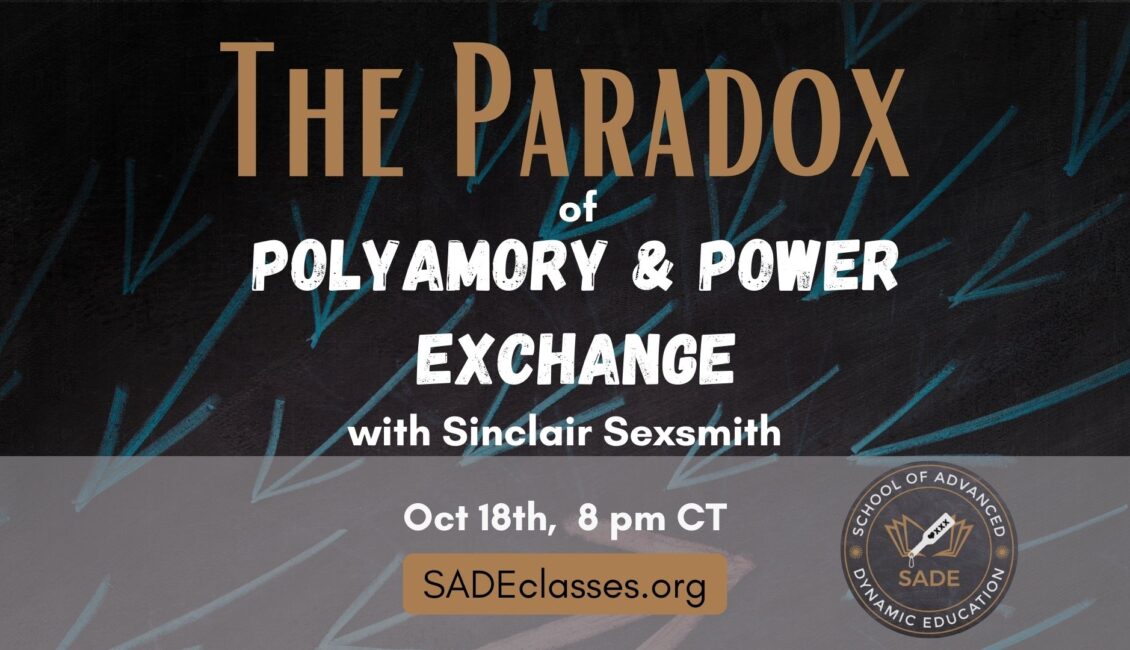 Available online and in person at a watch party in Austin, TX!
Consensual non-monogamy and D/s relationships can seem in contradiction to one another. Where polyamory and other forms of CNM tend to value egalitarianism, autonomy, and personal agency, D/s relationships rely on hierarchy, control, and surrender.
Within this seeming contradiction lies multiple possibilities for new ways of playing with passion and power.
In this 2-hour live online workshop, you'll learn: 3 frameworks to help you make sense of your negotiated non-monogamous and D/s relationships, hear perspectives to help you clarify your own relationship priorities, and discover resources to guide you in your own explorations.
We'll explore questions such as: When polyamory and power exchange collide, how do you decide what takes precedence? Where are the boundaries between one person's authority and another person's autonomy? Is it possible to fully surrender and have multiple relationships?
You'll leave with a deeper understanding of how these relationship styles can play together, as well as next steps for your own journey.
Presenter Bio:
SINCLAIR SEXSMITH (they/them) is a queer trans butch, a leather dominant, and a writer, focusing on individual, interpersonal, and institutional systems of power. They study dominance and submission, social & restorative justice, the energetic body, trauma, and transformation. They have been in the kink communities since 1999, and orchestrate transformative kink scenes through written erotica and ritual practice, and exploring the philosophies of power exchange and the practicalities of sustainable, long term D/s. As a leather community member, titleholder, producer, and organizer, Sinclair has presented and performed 200+ times at 75+ venues, including International Ms. Leather, Dark Odyssey, SXSW, Harvard, and Oz Kink Fest. Their short story collection, Sweet & Rough: Queer Kink Erotica, was a 2016 finalist for a Lambda Literary Award, and they have edited 7 queer erotica anthologies. Find Sinclair online at http://sugarbutch.net/find-sinclair
Class skill level: All
Class format: Lecture with audio/video presentation and in person through a watch party in Austin, TX.(presenter will not be present at the watch party).
Participant Materials: None
We believe that a quality education should be accessible by all. If you need a scholarship ticket, please email [email protected].
If you are able to pay it forward and donate a larger amount, it is greatly appreciated and helps us continue to keep our classes available to everyone.
For news and updates, follow us on:
Website: sadeclasses.org
Facebook: sadeclasses
Instagram: sadeclasses
Twitter: sadeclasses
FetLife: SADE
TikTok: SADEclasses
We do not record our classes or permit recording. This is to protect everyone's privacy, and the intellectual property of the presenters. Class resources, discussion topics, and notes will be available to attendees via email. Subscribe to our newsletter for updates and early-access tickets!