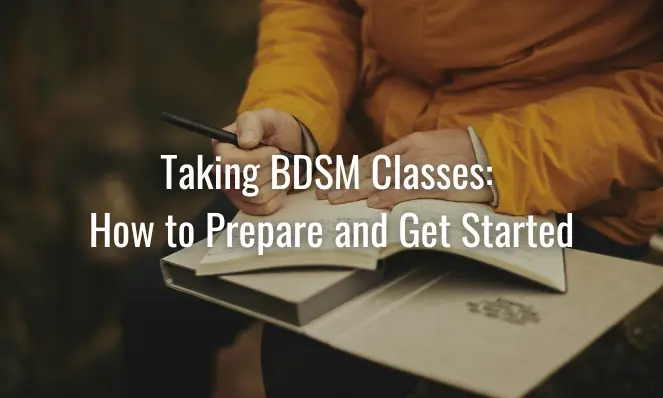 Are you interested in exploring the world of BDSM but don't know where to start? BDSM classes can be a great way to learn about different activities and techniques, as well as how to communicate with your partner and establish clear boundaries.
In this blog post, we'll cover why you should consider taking BDSM classes, how to prepare for them, and what you can expect in a typical class. By the end, you'll have everything you need to get started on your journey into BDSM.
Why You Should Consider Taking BDSM Classes
BDSM classes offer a number of benefits to those who take them. Perhaps the most important benefit is that they provide a safe, supportive environment in which to explore one's sexuality. BDSM can be a very intense and personal experience, and it is important to have a trusted instructor who can help you navigate these waters.
In addition to providing a safe space, BDSM classes also offer an opportunity to learn about different techniques and activities. You will likely have the opportunity to try out various activities in a supervised setting, which can help you figure out what you are and are not interested in. These classes also typically emphasize the importance of communication and consent, two key components of any healthy BDSM relationship.
Finally, taking BDSM classes can be simply fun! They provide an opportunity to meet other like-minded people and explore your sexuality in a judgment-free environment. Whether you are new to BDSM or have some experience already, there is something for everyone in these classes.
How to Prepare
When you're ready to take the plunge and sign up for BDSM classes, the first step is to do your research. There are a variety of different classes available, each with its own focus and approach. Some classes may be more theoretical in nature, while others will be more hands-on. You'll want to read up on different class offerings and find one that matches your interests and goals.
Consider your goals
Before signing up for a BDSM class, it's important to take some time to consider your goals. What do you hope to get out of the experience? Are you looking to learn new techniques, or simply explore your kinky side in a safe and supportive environment? Once you have a clear idea of your goals, you can start looking for a class that will help you meet them.
Find the Right Instructor or Organization
Not all BDSM instructors are created equal! When you're doing your research, pay attention to reviews and recommendations from past students. Try to find an instructor who has experience teaching the type of class you're interested in taking. And most importantly, make sure you feel comfortable with the instructor and that they seem like someone who will create a safe and supportive environment for learning.
What to Expect in a Typical BDSM Class
BDSM classes are typically held in a safe and supportive environment where participants can feel comfortable exploring their kinks and fetishes. The atmosphere is usually relaxed and open-minded, with a focus on consent and communication. Classes may be held at a dungeon, play party, or other BDSM-friendly space, or they may be hosted by an independent instructor.
A Focus on Communication and Consent
One of the most important aspects of BDSM is consent. All activities should be consensual between all parties involved, and this should be discussed openly before any play begins. Communication is also key in BDSM, as it allows partners to discuss their likes, dislikes, boundaries, and safewords. These topics will likely be covered in detail in a BDSM class, along with other important information such as aftercare (the care taken after a scene to ensure both partners are physically and emotionally safe).
A Variety of Activities and Techniques
BDSM classes typically offer a variety of activities and techniques for participants to try out. These may include rope bondage, spanking, impact play, sensation play, role-playing, etc. There is usually ample time for questions and discussion throughout the class. This way, everyone understands and feels comfortable with the activities they're exploring.
Conclusion
If you're considering taking BDSM classes, there are a few things you should keep in mind to make sure you get the most out of the experience. First, research different classes and instructors to find the right fit for you. Second, consider your goals for taking the class. And finally, prepare to communicate openly and focus on consent. With these things in mind, you can expect a safe, supportive environment where you can learn a variety of activities and techniques.