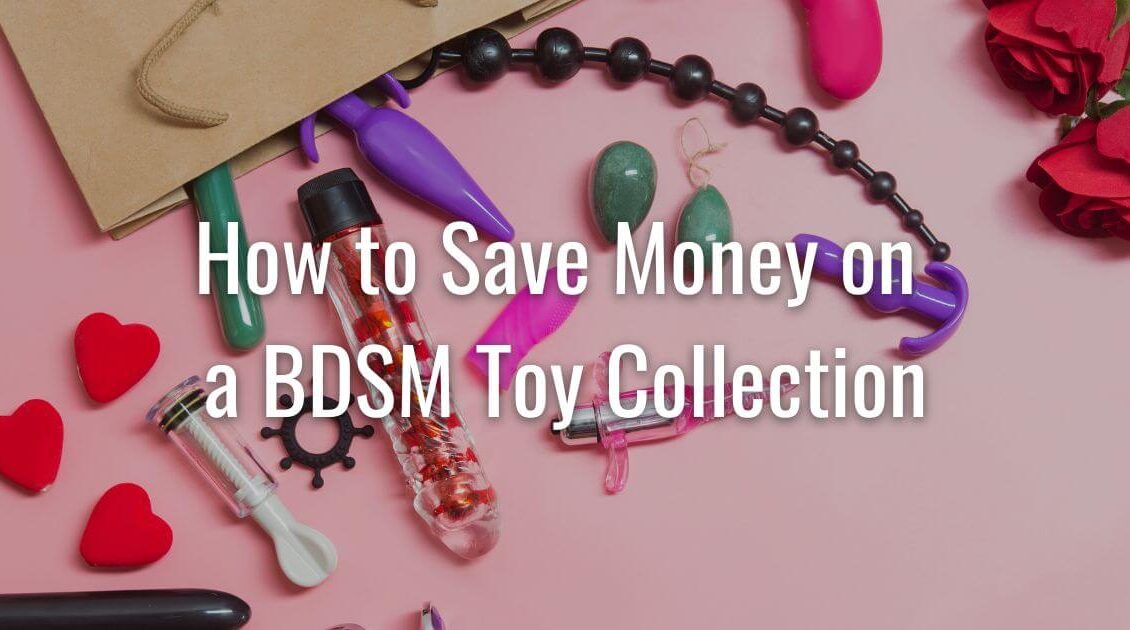 BDSM toys can be expensive, but there are ways to save money on your BDSM toy collection without sacrificing quality or pleasure. In this blog post, we'll explore three ways to save money on BDSM toys: buying used, making your own, and taking advantage of sales and discounts. By following these tips, you can enjoy all the benefits of a great BDSM toy collection, and even having some great new gift ideas, without breaking the bank.
A quick note about cost vs. quality in BDSM toys: It's important to remember that just because something is expensive, doesn't mean it's better quality. In fact, sometimes the opposite is true. When it comes to BDSM toys, there are some expensive toys that are made with cheap materials, and there are some affordable toys that are made with high-quality materials. It all depends on the brand and the type of toy you're looking at.
1. Shop Local or Online Affordable BDSM Toys
So where can you find affordable BDSM toys? The best place to start is local makers. Often, local makers put a lot of care and quality into the toys that they make. Do your best to support your local community before you go spending money at the big box stores.
There are a number of websites that sell BDSM toys at discounted prices. You can also check your local sex shop or adult store for sales and clearance items. And don't forget about thrift stores! You might be surprised at what you can find at a secondhand store that can be "perverted".
2. Do a Toy Swap!
Ask your friends and local kinksters if they want to swap! Some groups even host annual toy swap events where you can trade toys or buy used ones. This can be a great way to get high-quality toys at a fraction of the cost, but it's important to do your research before making any purchase. There are a few things to keep in mind when buying used BDSM toys:
Check the condition of the toy. Make sure there are no cracks, chips, or other damage that could cause injury.
If possible, test the toy before you buy it. This will help you make sure it works as intended and that you're comfortable using it.
Be aware of any potential cleanliness issues, allergies or sensitivities you may have to materials used in the construction of the toy. Make sure the toy has been cleaned and has not been fluid-bonded if it's a material that can't be sanitized.
Make sure you know how to clean and care for the toy properly.
3. DIY to Save Money on BDSM Toys
Another great way to save money on BDSM toys is to make your own! This can be a fun and creative way to get exactly what you want, while also saving a bit of cash. Of course, not everyone is going to be comfortable making their own toys, so this option may not be for everyone. If you do decide to go this route, here are a few things to keep in mind:
Do your research!
Make sure you understand how the toy works and what materials you'll need before starting your project.
Don't jump in with both feet.
If you're new to DIY, start small! This is especially true with BDSM toys because safety is a huge concern. Unless you have a special skillset like woodworking, don't immediately try to make a handmade wooden paddle or leather whip.
Take your time and don't rush the process.
Rushing can lead to mistakes that could potentially be dangerous.
Be prepared for trial and error.
It's unlikely that your first attempt will be perfect, so don't get discouraged if it isn't!
Conclusion
The bottom line is that you don't have to spend a lot of money to have a great BDSM toy collection. There are plenty of ways to save money on BDSM toys, so do your research and shop around to find the best deals. With a little effort, you can easily find affordable BDSM toys that will provide you with hours of fun and pleasure.