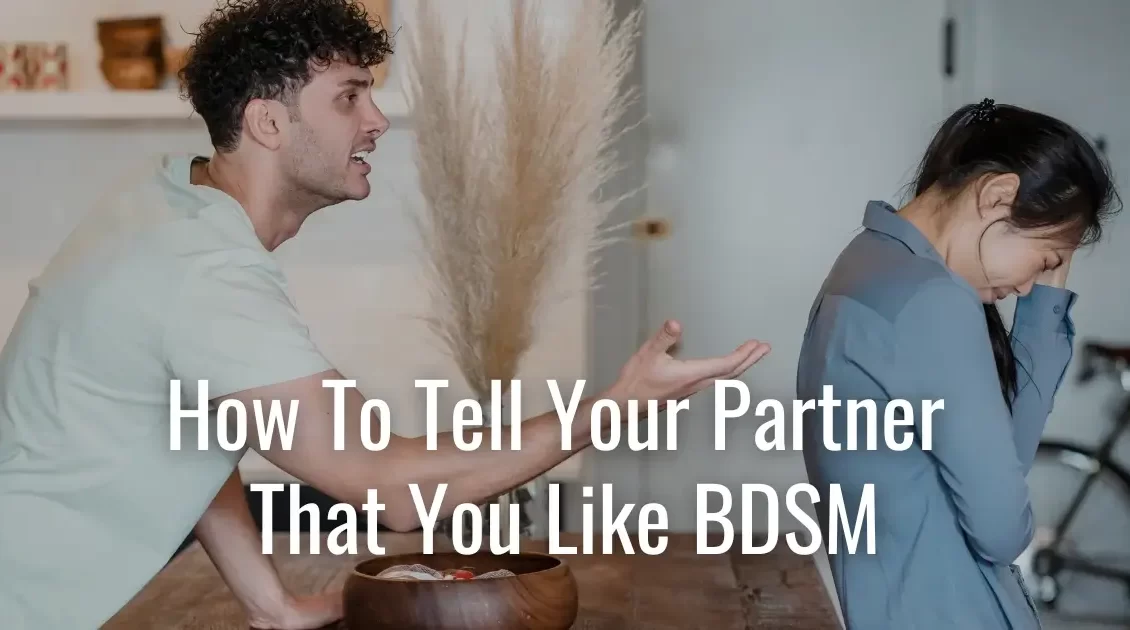 One of the most intimidating moments is telling your partner that you're a bit kinky. Ok, maybe more than a bit. Either way, the odds are 50/50 that they could be intrigued, or horrified. And, besides weighing the options of whether this truth bomb is worth the risk, let's face it – there aren't exactly resources available on how to tell your partner that you like BDSM. What's worse is all the misinformation out there.
So, how do you drop the kinky truth bomb? Here's our list of helpful ways that you can explore how to tell your partner that you like BDSM. And, who knows? Maybe they'll want to try it!
When Telling Your Partner That You Like BDSM, Don't Just Drop the Bomb
Though it's tempting to start off with "guess, what, I'm kinky!" and get it over with, refrain from just dropping the bomb. Chances are, they already have some idea – whether right or wrong – of what that means. In the best case scenario, they have seen a correct representation of BDSM. However, it could be that they have trauma or otherwise a terrible representation. Dropping the bomb without any context or ensuring that they're in a position to receive this discussion leaves you vulnerable to their mind assuming they know what your kink looks like. It's a whole lot easier to spend the time building their interpretation, rather than spending the time trying to dismantle the idea their brain put together.
Ask Them What They Know About BDSM
Your kink may not look like the kink they know – even if they know a true representation of kink. You want to ensure that this conversation is balanced, and they they feel like they have agency of choice and empowerment. Rather than talking at them about your kink, ask them what they already know about BDSM. This allows them the opportunity to express concerns, as well as give you an idea of where they're currently at. They may know a lot, or they may not even know what BDSM stands for. Furthermore, it takes some pressure off of you, and gives you the chance to refute any misunderstandings they may have about kink in general.
Don't Invalidate Yourself, but Don't Make This About Just You
Whether or not they're the person, they're important enough for you to feel the need to be honest with about this. Certainly, you care about what they think. Because of this, it's important to consider that you're not just telling them this to reveal the truth. You're telling them this as a negotiations process – like you would for play. This might not be their cup of tea, or it might be everything that they've wanted. Both perspectives are valid, so long as everyone feels heard and respected.
It's important to consider their needs, as well as your own. What are you willing to compromise? What are you not willing to compromise? They need to ask themselves the same questions. Above all, it won't help if you start off invalidating this part of yourself because if you can't validate it, why should they?
So, you tell them. Now what?
Well, a few things can happen, but first and most importantly:
It May Seem Obvious, But Tell Them What This Means – For You, For Them, and For the Relationship
Just because you want to be in a 24/7 TPE doesn't mean you need that, and it certainly doesn't mean you need (or want) that from them. Be sure that they understand this. Maybe trying BDSM for you is just some handcuffs in the bedroom. Maybe it's a high-protocol M/s. Regardless, be sure what you want and expect from yourself and from them is what you actually want, and not just fantasy. Be sure that it's something you're willing to do, and want to do with them. Just because you're kinky doesn't mean the relationship becomes a power exchange or authority transfer. Most importantly, just because you may not seek that from them doesn't mean the dynamic or underlying commitments to the relationship as it exists need to change. Or, maybe they do. Either way, there are a lot of questions floating around that need to be clarified and understood on both sides. Be sure that you're both on the same page. It'll take time.
Scenario 1: They Embrace It
The kink gods have blessed you, and your partner isn't terrified of you. This is great news! All that said, it's not all sunshine and rainbows. It's still worth exploring where your partner stands. Do they clearly understand your flavor of kink? Is it something they want to be part of, or just accept about you? Do they want to try to explore it on their own, or with you?
It's important to remember that just because they're your partner, and just because they accept the kink, doesn't mean that they consent to it. Telling your partner about BDSM doesn't mean that you are entitled to their consent. If they're not totally turned off by the idea of trying it, you have to keep in mind that as the (presumably) more experienced one, you have a responsibility to recognize and respect the power differential between you and your partner. Experience matters, and you don't want to "shark" them by inadvertently pressuring them into trying something they may not fully give informed consent to.
Maybe, a good place to start would be to incorporate some elements of kink in the bedroom! Check out this article on how to create a discreet dungeon space in your home!
Scenario 2:  They're Unsure
Well, it's not the worst outcome. Then again, it can be scary. There's almost more uncertainty here than when you were deciding whether or not to tell your partner that you like BDSM. Where do you go from here?
There's no easy answer. They're likely in some form of shock – even if it's not extreme. It's worth exploring that, but be gentle to them and yourself. Take some time together and separately. Remind yourself why you felt the need to tell them. Remind them that your relationship hasn't fundamentally changed – you're still the person that they know and care for.
As you make it to a point of being comfortable enough to explore the questions, be sure that you make time to reconnect as often as possible.
Scenario 3: They're Horrified
Unfortunately, this is the worst outcome. This was a chance you knew was possible, but you considered it worth the risk. Most importantly, you should not hate them for this. People don't feel comfortable with kink for a variety of reasons. Now, whether they're comfortable exploring those reasons with you is entirely their call. Don't immediately try to pry that out of them.
Give things time. You're likely hurt as well, and that's completely valid. Much like scenario 2, they're likely in shock and unsure of how to feel. At this point, however, you can't go back. And, you shouldn't want to.
Like we said before, your kink is valid. Who you are is valid. If they can't see that, as painful as that may feel, they're not the person for you. They may come around, or, they may not. You can't compromise yourself or pressure them into something they don't consent to.
Regardless of the outcome, telling your partner that you like BDSM is never an easy conversation. Be kind to yourself, don't give up, and keep being authentic and true. There's nothing wrong with who you are.
Related: What Does BDSM Stand For?