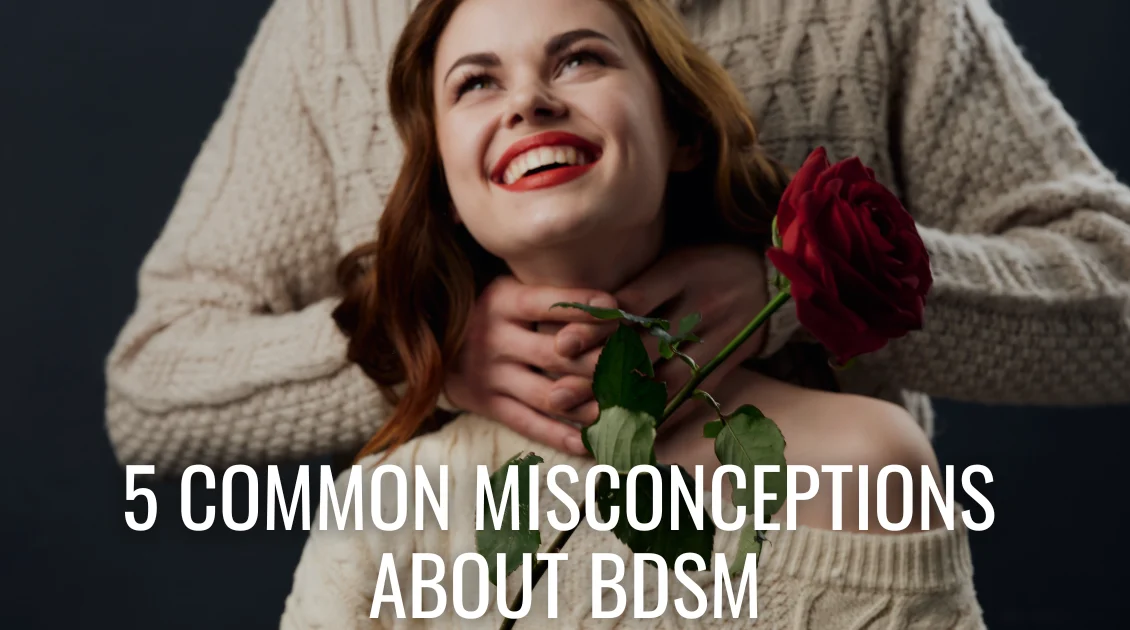 The internet is a great resource for learning about BDSM, and normalizing its practice. However, it's now easy for harmful misinformation to spread. Falsehoods such as "BDSM is dangerous", "BDSM is abuse", "BDSM is due to trauma", create a false narrative that leads to harm. This is especially the case for people who are new to BDSM. To dispel these myths and encourage accurate and ethical BDSM education, we've made this list of BDSM common misconceptions. If you're still lost as to what all of this means, check out our blog post on the most commonly asked questions about BDSM as your first lesson!
1. BDSM Misconception: BDSM Is All About Sex
Sex and sexual activity certainly can exist in kink and BDSM. However, that's not true for everybody. Plenty of people across the sexuality and romantic spectrums practice kink. And, for a lot of people who practice BDSM, the drive to serve and receive service is their motivator – not sex.
Some kink and BDSM spaces are sex-positive, and some are not. The reason for the latter is that during kinky play, endorphins and hormones are released that can alter states of consciousness – similar to intoxication. This can potentially compromise the ability to give consent.
2. Misconception: BDSM Is Abuse
Contrary to how a certain popular book and movie series portray BDSM, when practiced ethically with consent, it is far from abuse.
Consent is the cornerstone of what separates abuse from BDSM. Further, relationships built in BDSM – otherwise called power exchange and authority transfer dynamics – are built upon a consent framework that all parties agree to. And, at any point, anyone in the dynamic is free to withdraw consent, even in consensual non-consent arrangements.
Unfortunately, relationship abuse is often looked at by a series of actions taken out of context. What's more, these actions are often contexualized through the perspective of heteronormative, monogamous, vanilla relationships.
While some of these can certainly be applicable all around, such as cruelty to animals – which is NEVER ok – other actions matter contextually to determine whether or not it's abuse. For example, one item often listed as a tell-tale sign of an abusive relationship is controlling finances. If the person does not consent to that happening and has no underlying issue or legal mandate that would warrant someone else's control of their finances (such as drug addiction or severe mental illness), certainly, it's highly likely that it's an abusive situation.
However, if the person prefers not to deal with the finances and willingly relinquishes that control to their partner, is that abuse? What if their partner works in finance and it makes sense for them to be responsible for the finances? Lots of factors can come into play that change the context of this scenario entirely from abuse to consent.
Another example is "controlling behavior". Controlling what, exactly? How much is too much? The ambiguities and contradictions to this in heteronormative "head of household" culture that make this difficult to gauge, are mind boggling.
Above all, if a person fears that they are being abused, they certainly should seek assistance. However, the point we're trying to make is most of these actions don't immediately mean that a relationship is abusive.
3. Kinky People Have Trauma, or Are Acting Out Traumas with BDSM
Similar to the assumption above, just because someone is practicing BDSM and kink does not mean that they have trauma. Certainly, some people who have been abused find empowerment in practicing BDSM and kink. However, this is not true for everybody – just as any generalizations about groups of people are inaccurate. People with trauma exist everywhere – not just BDSM. That's why it's important to be trauma-informed.
Most importantly, BDSM is not a substitute for therapy. It's important for people to see a mental health professional when it comes to their trauma.
4. Misconception: Kinky People Are Dangerous, or Abnormal
Paralleling the third assumption, not all kinky people are dangerous or abnormal. In fact, most are just average people like you and me who work in a variety of industries and are otherwise kind and ethical folx. Unfortunately, however, dangerous people do exist – just as they do everywhere.
The media often sensationalizes cases of harm in BDSM. And, the nature of people having to practice BDSM in hiding does pose a potential risk. That's why it's absolutely important to destigmatize the practice of BDSM by consenting adults.
5. BDSM Play Is Dangerous or Harmful
Certainly, at times, BDSM is dangerous. But, so is American football, driving, or doing just about anything. Yes, there is an increased risk with certain kink activities.  However, BDSM is not inherently more dangerous simply because it's BDSM. If consenting adults are fully-informed of the risks, and practice their kinks in safe and ethical ways, they greatly reduce the risk of harm.
This is by no means an exhaustive list, but we hope that it clears up some confusion! It's imperative to learn how to practice kink safely and ethically. And, a great way to do this is by taking classes, and joining your local community! Check out our virtual BDSM dynamic classes to learn more about BDSM power exchange and authority transfer dynamics.