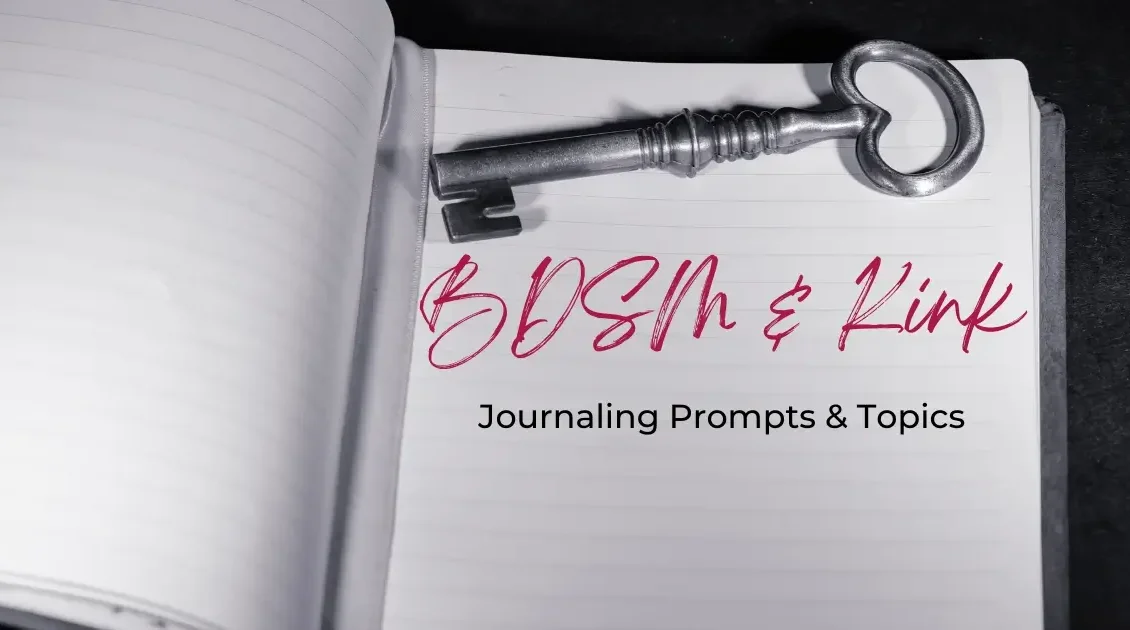 Journaling boasts a wide array of benefits. It's a healthy way to explore your inner self, and find ways to grow as a person. So, why not do the same in your power exchange dynamics by journaling for BDSM in a kinky journal? All that said, we know the challenging part is that typical prompts may not help you quite like specific BDSM journal topics might. BDSM prompts explore with more depth and specificity. To combat this, we've created this list of kink and BDSM journal topics inspired by our classes!
BDSM journaling can be more specific in its approach, but the prompts and overall concepts are similar to "vanilla journaling" in their intent. Above all, strive for the opposite of perfection when working on these BDSM journal prompts. Your kinky journal is a tool for you to grow as a person and within your relationship(s). You're not writing for the sake of just writing when you answer these BDSM prompts. The best way to get started with your kinky journal is to use these kinky journal topics as an anticipatory measure to encourage you to process things in a different way. Seeing something that resonates with you in these BDSM journal topics allows you to acknowledge your feelings in a tangible way.
Don't like a topic? Change it! Can't answer the question fully? No worries! Don't want to answer a question? That's fine too! Kinky journaling is for you and anyone that you choose to share it with – should you decide to do that at all. Negotiate your kinky journal as you would play, because a journal – particularly addressing BDSM journal topics which can be much more intimate – is a very vulnerable and sacred place.
These BDSM prompts and journal topics can be used by anyone across the kink spectrum. In fact, we recommend it! We're looking at you, left of the slash people.
In what ways can voice impact a scene – for better or worse?
How would you like to incorporate voice into the scenes you do – be it through deepening tone, specific phrases, body language, or something else?
Are there any tones or actions that you are eager to try in a scene? Why is that?
Are there any tones or actions that you are hesitant to try in a scene? Why is that?
In what ways can dynamics be further negotiated to account for other relationships, while still respecting protocols and consent?
What are some ways that you can set healthy boundaries with a new partner without subjecting them to "couple's privilege" of your existing dynamic(s)?
What are some ways that you can promote harmony in time spent with partners without falling into the trap of treating all relationships as equal?
Make a list of Dom and sub role models that are inclusive representations of Dominance and submission. Who did you list, and why?
What are some ways that you can incorporate elements of sissification and feminization into play without being misogynistic or compromising the elements about it that you love?
Will your negotiations process for FemDom change following this? Why or why not?
What are some ways that you can encourage more mainstream practice of Gentle FemDom and tenderness as a valid form of expression of play and power exchange on both sides of the slash in public kink-spaces?
In what ways can you encourage gender-inclusiveness in BDSM power dynamics both in your personal relationships and community?
What are some reasons that compel you to give or receive service?
How important is service in your dynamics?
What are some ways that you can differentiate what you need vs what you want regarding service?
What services can you offer your partner that they may not have considered?
Is your partner able to receive this sort of service? Do they want it?
How will you communicate if the service you want to give or receive is within your boundaries?
What are some ways to differentiate to partners and to yourself the types of service you consider "intimate", or otherwise only for special occasions or specific relationships?
What are some goals that you and your partner(s) have set for the service you plan to give or receive?
Will you express appreciation for giving or receiving service from a partner? How?
How can you develop strategies to check in with partner(s) on the service you give or receive being fulfilling to all parties involved?
Using the Personal Values Cart sort system, what are your top 5 personal values, very important, important, and not important categories?
How are these similar to your partner's? How are they different?
What are some ways that you can feel validated and heard when it comes to apologies? What about your partner?
How do you define the difference between rules, protocols, and values?
In what ways are you willing to compromise on some values? What are you not willing to compromise on?
Think about the last time you and your partner had a disagreement that ended up being because of a misunderstanding. How did you resolve it? Do you feel like that strategy actually worked, or do you now have better strategies to try?
What are some strategies that you would like to implement when it comes to connecting with your partner, separate from sex or play?
Take some time to yourself to really think about what helps you relax in times of stress. Bonus points if you specify different situations and what the remedy is. For example: when I'm overwhelmed with household chores, it helps me if my partner is proactive and cleans for me or hires a cleaning company. Or if the stress is manifesting itself with body aches, a massage or having a bath drawn would help. Write these out and keep them for yourself or share them with your partner.
Explore the ways in which you receive love and show love. Give examples of how that can be expressed to your partner, such as if your primary love language for receiving is quality time, it might be that weekly date nights would make you feel loved and more connected or less stressed.
How do you deal with stress? Do you consider it to be a healthy or unhealthy way to cope?
What are some methods of self-care or centering that you can utilize to ensure that you have the capacity to serve and take care of your partner during their times of stress. Do you want your partner involved, or do you prefer to do it alone? Why?
What are some nonverbal "tells" that either you or your partner have when stressed? For example, fidgeting in the moment, or forgetting simple tasks.
What are some ways for you to communicate that you are stressed to your partner, with respect to your power exchange dynamic?
Of the nonverbal methods of communication discussed, what felt authentic to you? What didn't feel authentic?
What are some "code words" or alternative phrases that you can develop alongside your partner to communicate that you are experiencing stress? Emphasize something quick and easy to say, that allows you to covertly express your vulnerability without having the trauma response of wanting to hold that back.
In what ways can you use anticipatory service to help alleviate stress for your partner?
What are some kinky homework assignments that you would like to assign or receive? What drew you to those in particular?
If you're currently in a long-distance dynamic, what are some new considerations that you have for your play scenes following what you've learned?
If you are not in a long-distance dynamic, what are some ways that you can utilize technology to spice up your in-person dynamic?
Are you restructuring or removing any existing protocols due to long-distance? Why or why not?
As the Top or Giver, how will you factor in a grace period to your homework and commands? What will the grace period be?
As the bottom or receiver, how will you reframe these grace periods to have the same urgency as you'd have for tasks given in person?
In what ways have long-distance dynamics or play strengthened your relationship?
In what ways have long-distance dynamics or play challenged your relationship? How can you reframe that to lead to relationship growth?
What are some ways that you can mitigate drop for after in-person visits or video calls?
How have you adapted aftercare procedures for kinky video calls? Does it serve you, or does it need to improve?
Journal topics created in collaboration with Farrah Bonnot, LPC:
What does "no" mean to you, and to your dynamic?
In what ways can you reframe "no" to be a gift, rather than carry a negative connotation?
What do boundaries mean to you?
What do you feel when you set a boundary? Compare that to what you feel when someone else sets one.
In what ways can you reframe boundaries to be caregiving, and an act of love in a relationship?
Do you consider trust to be a choice? Why or why not?
Define vulnerability for yourself. How do you give and receive it?
List ways in which you can prioritize vulnerability as a necessity for deep connections. Does that vulnerability manifest as actions, thoughts, words, or something else?
In what ways does codependency undermine consent? Consider this from the perspectives of everyone in the dynamic.
Consider your core values. What are some ways that you can incorporate these into your productivity system?
What are some ways that you can gauge whether a system is working for you or not?
How much involvement do you want your partner to have in your productivity system? Would you consider changing that – why or why not?
In what way can you incorporate self-care into your productivity system? Do you combine the two? Why or why not?
When deciding to change a productivity system, how will you implement the change to your routine? Do you involve your partner in that progress?
Does perfectionism stand in the way of your productivity? If so, what are some ways to reverse that script?
Will you develop separate systems for differing areas of your life? e.g. work, school, power exchange, etc. Why or why not?
Are there specific tools that you can use to increase your productivity? Do you notice any consistencies in what works or doesn't work?
How will you gauge whether a system is actually improving your service in your power exchange relationship?
Set "levels" of productivity that you plan to attain. How do you define these levels, and what is a comfortable spot for you?
What are some challenges that you currently face with families and your PE/AT dynamic? Have you tried to find a balance? What has worked, what has not worked?
During your "Discovery Phase", what are some key topics of discussion? e.g. fears, values, goals, etc.
What is your parenting style? What is your partner's parenting style? In what ways can you blend the two?
How will you begin your "Implementation Phase"? Will it be a slow transition of a single protocol at a time, or creating a whole new system?
Will you use honorifics or PE/AT specific titles in front of the children? If not, will you have adapted names or forego them entirely?
What are some ways that you can communicate boundaries to your children, and teach them to exercise their own?
Will the left-of-the-slash person have final say over childcare and parenting decisions? Which areas will they have control over (or no control over), and to what extent?
In the case of a blended family, or extended family dynamics, what are some ways that you can incorporate boundaries with respect to topics coming up outside of your presence? e.g. to Grandparents, at school, etc.
Are there any existing protocols that you can adapt to be "kid-friendly"? How will you begin implementing them?
What are some ways that you can have privacy or PE/AT "staycations" to honor the dynamic, without children there? List some ideas – ranging from full weekends of time, to levels of protocol intended.
How do you define sacred? Does it differ in any context?
Is spirituality and sacredness something that you want to explore in scenes or separately? Explore why.
What are some ways that you can give and receive consent in exploring sacredness and spirituality in scenes?
What are some ways that you would like to connect with a partner during exploration of the sacred? Does it differ per partner, scene, or the environment?
Are there any spiritual objects or elements that you'd like to bring into scenes to get you into the spiritual headspace? If so, what are they and why? If not, why not? Would that be something you'd like to explore eventually?
Do you have any specific aftercare methods for exploring sacredness in scenes and dynamics?
How do you connect with partners during sacred scenes? Why does that feel authentic to you?
How do you know when a scene has become sacred to you? How do you inform your partner of this if it is unexpected?
What are some ways that you can connect with sacredness of the moment outside of scenes and play?
Can you think of any scenes that you have done in the past, and find the spiritual and sacred elements to them?
What are some of your existing protocols, and why do you have them?
Are there any existing protocol guidelines (e.g. military, Gor, etc.) that you can adapt to suit your needs and desires? Why did these particular ones feel authentic to you?
In what ways can you bring more intentionality and purpose to these protocols?
If ritual does not feel authentic within your protocol practice, what are some ways that you affirm protocols in the dynamic?
Do you have any protocols where the process is as important as the final product? Why is that?
What are some effective ways to communicate this process preference with intentionality and purpose?
With new and existing protocols, how do you determine whether all parties are emotionally invested in the protocol?
Do you have any protocols with different "versions" depending on the context? e.g. instead of the receiver asking out loud to use furniture at a family event, waiting for the giver to pull out their chair.
Do these various versions feel authentic and intentional? If not, what are some ways that you can facilitate this?
Does position training feel authentic to your dynamic? If so, what are some ways that you can adapt them to suit your needs? If not, explore why.